Planet of the Apes
The slot is developed by Net Entertainment and this is another video slot inspired by Hollywood and you can clearly see the essence of Hollywood movies. The game has the Rise of the Planet of the Apes on the left-hand side with brighter background and Dawn of the Planet of the Apes on the right-hand side of the screen with a darker background.
Gameplay Of Planet Of The Apes
The game has two sides - The Rise and the Dawn, both having twenty paylines each. You will be playing on two slot machines doing a spin on each of them. To start the game, you need to place a bet that can start from as low as 0.02 and go up to 200 and this will be valid for the spins on both slot machines. So, you don't need to pay for two paylines separately. Moreover, two video slots will offer you two separate bonus game free spins.
The main characters in the slot are the apes from the hollywood movie. Hey can be seen on both the Rise and the Dawn reels. Regular playing cards starting from 10, J, Q, K, and A can be seen on both sides of the game. The wild symbol of the game is a Caesar's attic window symbol that can replace all the symbols except the scatter and the bonus. When you get the Wild Symbol stacked on reels in the Rise of Planet of the Apes, the 'Stacked Wild Bonus' will get triggered which will be copied on the Dawn area as well.
Dual Bonus Feature
The slot has many bonus features including cash bonus for both the Rise and Dawn reels. There are transferring stacked wilds, transferring symbols in the Dawn play and also a feature that is called 'Dual feature' where only the corresponding chosen symbol is shown on both the Rise and Dawn reels to get you huge wins.
Free Spins Bonus Feature
The 'Rise Free Spin' feature will offer you ten free spins having all the Wilds reserved for the last spin. On the other hand the 'Dawn Free Spin' feature will offer you fifteen free spins where you can collect symbols to win some more free spins, a five times increase in the multiplier and extra wilds. Last but not the least, you have 'Multiple Free Spins' feature where you can play both free spin features. You can win 3,000 times your stake on each Dawn free spin.
To Sum Up
Planet of the Apes has fantastic visuals with authentic sounds and voices giving it a perfect background and feel to play. The game is full of bonus features that keep players hooked. No doubt, big wins are available for players in the base gam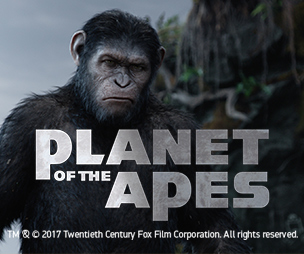 RATE THIS GAME:
Play Now