Poker has been a much-loved table game for thousands of years. Once upon a time we could only play table games at land-based casinos – these days, it's easier than ever to play from home.
And games are becoming more exciting and all-immersive than ever, with many variants, themes, and bonus rounds to look forward to.
We at Fruity King only offer the highest quality video poker games. As such, some of the biggest names in software development provide our titles – such as Microgaming, NetEnt, and Big Time Gaming.
What is Video Poker and How Does it Work?
Video poker was first introduced back in the 1970s and is derived from the traditional fixed odds table game – where each card combination has a set value. The difference is, instead of being dealt actual cards to play with – you will be navigating your way through each round via a screen.
Traditionally this would be played on a terminal in a pub or land-based casino. Nowadays, most people prefer to play at regulated gambling sites. This often offers players the highest odds and lowest house edge – but you should always read the small print nonetheless.
See a quick explanation of how video poker works when playing at an online casino:
Whilst games differ, most show a payout table, a coin value setting, and your balance
First, you will need to make a wager – how much money would you like to bet?
Next, you will click 'Deal'
The virtual casino dealer will give you five cards from a standard deck (52) – you will see these on your screen
If you like the cards you have been dealt – select them on your screen and disregard the rest
Next, click 'Draw', and the casino will replace the cards you didn't want
Finally – if you got a winning poker hand – you win a prize. This will be determined by the hand combination, the size of your bet, and the odds offered by the specific title.
The layout and buttons might differ but the general idea is the same across the board.
Video Poker Card Values
As video poker is derived from the traditional table game, you can expect the same card values.
For anyone who has never played, you will see the winning hands listed below:
Ace, King, Queen, Jack and 10 in a matching suit – 'royal flush'
5 cards of a matching suit – 'straight flush'
4 cards of the same value, with 1 random card – 'four of a kind'
3 cards of the same value and 2 other cards that are of equal value to each other – 'full house'
5 cards in a matching suit, but not in any sequence – 'flush'
5 cards in a sequence, but different suits – 'straight'
3 cards of the same value – 'three of a kind'
2 pairs – 'two pair'
2 matching cards – 'a pair'
If you do not have a pair, the virtual dealer will select your highest value card from what you have been dealt – this is known as 'no pair', or 'high card'
Please note that the payout will vary depending on the specific video poker game you are playing.
Video Poker Guide: Terms Explained
This brings us neatly onto video poker pay tables. To keep casino games fun, it's essential to understand your odds of winning and that the house wins most of the time. This enables you to play with realistic expectations – and budget accordingly.
When looking at the small print of your favoured video poker title – you will also notice that there are different levels of variance, or risk and reward. This is the difference between a game that pays out little and often – and one that requires a huge hand to get the big jackpot on offer.
To clear the mist, let's take a quick look at the basics:
Pay Table – This refers to the various hand combinations and what the game will pay you for landing them. This will differ, as some variants will pay out more for a four of a kind than a royal flush!
RTP: All games come with an RTP (Return to Player) percentage, and this will vary depending on various aspects such as the platform itself or the variant you are playing. Put simply, this refers to the amount of money the game is programmed to pay out over millions of plays. For instance, if you see an RTP of 95%, this means that if you were to wager £100, throughout a long time, you would win back £95. In other words, the higher the RTP, the better.
Variance: As we touched on, this refers to risk and reward. Video poker variance can range from 15 to 100. The higher this number is, the more volatile the game is – and the more money you will need to continue playing. As such, beginners are better off sticking with titles that come with low variance.
Notably, wild card games offer plenty of opportunities to make high-value hands. As a result, the payout may be smaller and the minimum winning hand might be much bigger. You should also be aware that whilst progressive video poker jackpot games often offer larger than life prize pots – the payout frequency is usually much lower.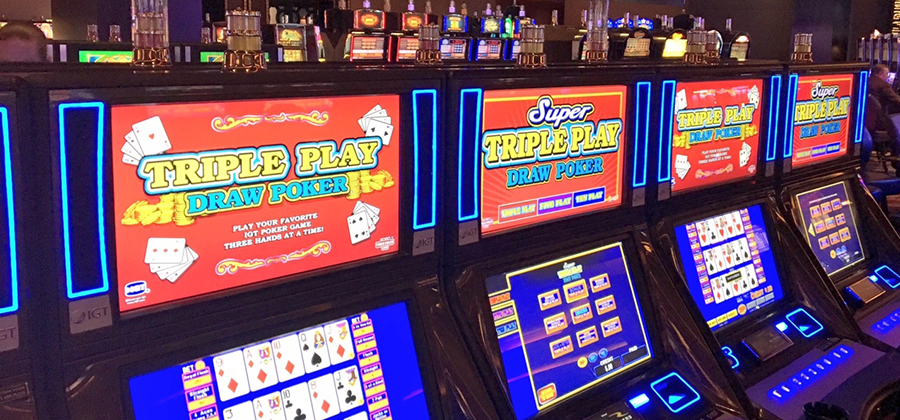 Video Poker Variants at Online Casinos
See below some of the video poker variants available at online casinos:
Deuces Wild Video Poker – This game falls into the aforementioned wild card variant of video poker and the paytable will vary across different platforms. Like most, this title is played with a pack of 52 cards. As explained earlier, you will need to place a bet, press 'deal' and once you have discarded the cards you don't need – hit 'draw'. The difference here is that any card you don't want can be replaced with a deuce (a 2) – which is your wild card.
Jacks or Better Video Poker- This is a classic and is available at many online casinos. Newbies often choose it as it's relatively simple to play. Jacks or Better, the game's namesake, is a hand that consists of a pair of either Aces, Jacks, Queens, or Kings. This is the lowest-paid hand and if you are left with this by the time the draw finishes, you will win an amount as you bet. Some variants enable you to double your winnings too.
Bonus Poker Video Poker – This variant of video poker tends to offer a higher payout if you land a four of a kind hand – such as four Queens for example. This game variant is very similar to the previously mentioned Jacks or Better.
Progressive Jackpots Video Poker – As you may already know, a progressive jackpot is contributed by the people playing the game – meaning a small portion of each bet is added to the pot. As such, this gets bigger and bigger until someone bags the prize. You could get lucky and win big – but remember, as we said, this variant will likely come with a smaller payout.
Multi-Hand Video Poker – This variant of video poker enables you to hold as many as 100 hands. When you click 'draw', instead of being dealt the standard amount – you might receive anywhere from a few to 50 or 100. A new deck is used with each deal, and you will still receive your winnings on high-value hands as you would in a standard single-play game.
As you can see, there are many different twists on the traditional game of poker, and each will come with its own merits and sometimes disadvantages – such as lower payouts.
Fruity King Video Poker
Here at Fruity King, we only offer games from the biggest and most reputable software providers in the online casino space. As such, you can expect high-quality video poker titles with immersive gameplay and a plethora of bonuses and promotions.
Some of the exciting video poker options at Fruity King include the following:
Triple Pocket Hold'em, Gold Series
AbraCARDabra
Louisiana Double
Jacks or Better
The current welcome promotion here at Fruity King offers all new customers a 100% match deposit bonus of up to £100. In addition to this, you will also be given 20 free spins on the popular slot game Riche Wilde and the Book of Dead.
Please note that the wagering requirement for this promotion is 50x wagering of the bonus – as well as winnings awarded from free spin bonuses.
Video Poker Strategies
The truth is, there is no shortage of websites telling you how to beat your favourite online casino game – but that doesn't mean there is a magic strategy to win. Although granted, this is a game or part skill, and part luck
With that said, you will see the top video poker strategies below: 
Learn the basics of how to play poker:

Video variants never stray too far from the original gameplay, winning hands, and card values.

Choose a video poker title carefully:

Be selective about which game you play, and always check the minimum bet and paytable if you are a newbie. Also, make sure it's a beginner-friendly title if you have never played it previously. As we touched on, many beginners opt for Jacks or Better.

Set a video poker budget:

Rule 101 of video poker is to set yourself a budget and never go over that amount. It's easy to get carried away when lady luck is shining down on you. But, by only allowing yourself to spend so much per session or week.

Try a free dyou can stay in control emo:

Some video poker titles offer a free version so that you can get used to the game and get some practice in – before dipping into your online casino budget.

Look for the best video poker bonuses:

We are not shy of a promotion or two here at Fruity King. When you are looking for a video poker game to play, make sure you check out any available bonuses you can take advantage of. It's always worth joining a VIP program for access to even more benefits.
The number one strategy is always to play responsibly and within your limits, and ensure you read the terms and conditions.
FAQs
What is video poker?
Video poker is virtually the same as traditional poker – the only difference is that it is played at a machine with a screen, or at an online casino. You will often find heaps of bonuses when playing video poker online.
Is video poker safe to play online?
Yes, video poker is safe to play online – as long as you do so via a reputable site. Here at Fruity King, we take rules and player protection very seriously. As such, we are regulated and approved by the Gambling Commission.
What is the easiest video poker game to play for beginners?
Many newbies look for Jacks or Better video poker titles. It is as close to the traditional 5 draw poker game as it gets, and sometimes has a higher pay out.
What does a high variance mean on video poker games?
The variance of a video poker game will usually vary between 15 and 100. The higher this number is – the more volatile the game is. High volatility is not recommended for newbies. After all, although the reward will be high, so will the risk.
What is the highest ranking hand in video poker?
Generally speaking, the highest ranking hand is the 'royal flush' – which is made up of 10, Jack, Queen, King, and Ace – all of the same suit. Some variants of video poker pay out higher amounts for 'four of a kind' – notably, 'Bonus Video Poker'.