If you've spent any amount of time at online casinos over that past couple of years, you may have noticed a rather interesting trend developing – live casino gaming. As the name suggests, this is not a simulation or 'virtual' casino gambling, this is real, actual casino gaming, but online. Confused? Well, don't be, it's actually quite easy to understand. If you love classic casino games like roulette and blackjack, you'll love online live casino UK gambling!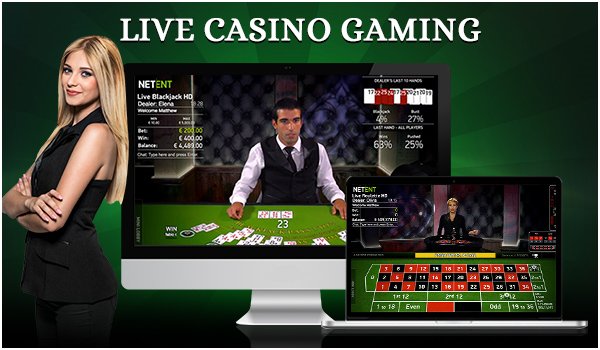 How Can an Online Casino be 'Live'?
This is usually the very first question that most gamblers ask when they initially hear about live casino gaming. We all know that an online casino is virtual, filled with casino games that are essentially nothing more than computer simulations of real life casino games. Over time, many of these virtual games have come as close as they can to a 'real' game – with great 3D graphics, sounds and more.
However, virtual is still virtual and you will always be going up against a computer (even if the dealer is animated). What many players have really wanted is what amounts to the best of both worlds – the luxury of playing anywhere they like, with the excitement and fun of visiting a real casino. Well, top casino software brands like Playtech, Evolution Gaming, NetEnt and others have spent a great deal of time and money developing just that.
So How Do Live Casinos Work?
The only reason top casino software brands have been able to develop the live casino platform is due to breakthroughs in online video streaming and bandwidth technology. The way that live casino games (also known as live dealer games) work is actually quite simple.
Top software brands like Playtech and Evolution Gaming have created state of the art studios (Playtech actually have two – one in Riga, Latvia and one in the Philippines) where they broadcast from. Obviously the games that are available are all classic table games, namely roulette, blackjack, baccarat and various table pokers.
These studios contain a range of actual casino tables – the same as you would find in a real brick and mortar casino. Every table is operated by a highly trained, skilled dealer or croupier, along with all the usual accoutrements such as chips, cards and so on. Every table is covered by one or more HD digital cameras, streaming several angles directly to your computer. The overall effect is a real live casino experience from the comfort of your own home.
Why You Should Try Live Casino Gaming
Live casino gaming isn't just a passing trend or gimmick, this is a legitimate way of playing top casino games online. Of course, if you only like playing slots or video pokers, then live casino gaming may not interest you, although you should still check it out, you may just love it!
Playing live dealer casino games is as close as you will get to real casino experience without actually visiting a brick and mortar casino. Most live games have added advantages which are designed to enhance the overall experience. This includes being able to interact with the dealer, making it a far more interactive social experience. In fact, most live games even let you tip the dealer when you win big. Sharing your good fortune and seeing the dealer's appreciation can be just as good as actually winning a round.
Live casino games are now also available for most mobile devices including Android, iOS and Windows Phone. This means that you can visit a real live casino floor anytime of the day or night from anywhere you like. The only thing that could be better than live casino gaming on the web, would be a virtual reality version, which is closer than you think – watch this space!